Article courtesy of Australian Mining
ROY HILL HOLDINGS HAS WON THE CDE MINING MINERALS PROCESSING OF THE YEAR AWARD FOR ITS WET HIGH INTENSITY MAGNET SEPARATOR PLANT, WHICH SAVES HIGH-GRADE ULTRAFINE IRON ORE UNITS THAT WOULD OTHERWISE END UP ON THE TAILINGS WASTE PILE.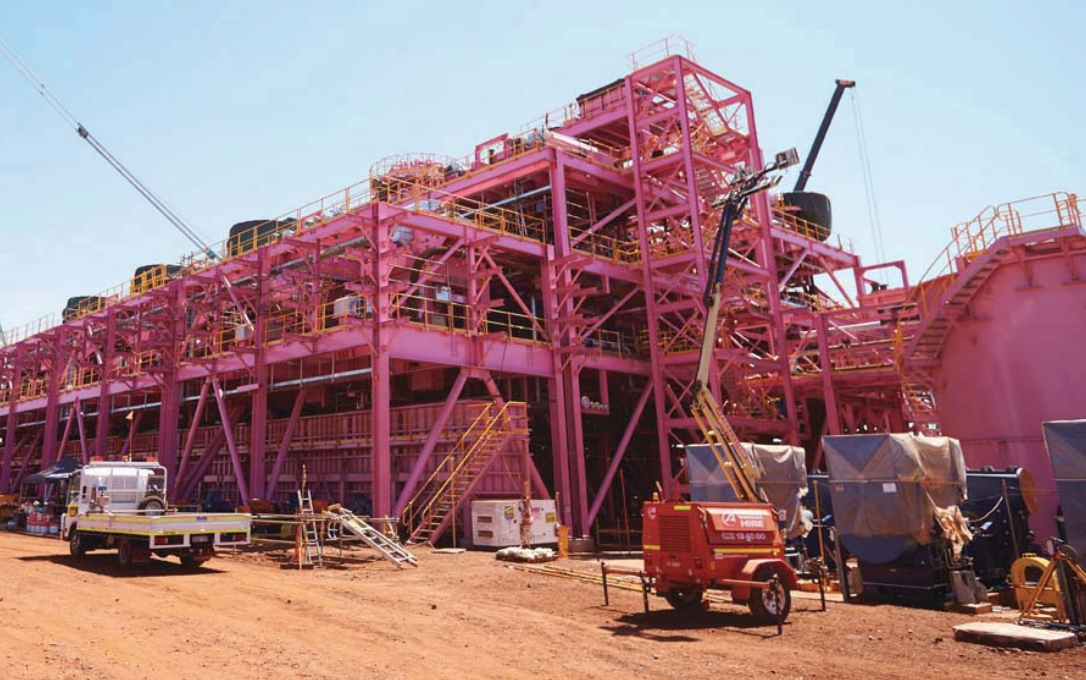 Roy Hill built the wet high intensity magnet separator (WHIMS) plant in 2018 to deliver another four to five million tonnes of highgrade iron ore from the mine, increasing its export capacity to around 60 million tonnes.
By filtering tailings through a series of electromagnets that extract the iron particles, Roy Hill is able to recover iron from the waste and place it onto the stockpiles for production.
Roy Hill achieved first ore from the plant in December last year and commenced production during January, hitting a production milestone of one million tonnes by May.
The Australian Mining Prospect Awards judges were most impressed by Roy Hill's clear demonstration of using smart innovation to process minerals in a more efficient and sustainable way.
"Of particular emphasis in the nomination was Roy Hill's commitment to 'challenge, adapt and modify our approach to create new ways of working'," judge and Australasian Institute of Mining and Metallurgy chief executive officer Stephen Durkin says.
"(This) positive attitude reflects excellence not only in Roy Hill's operation but should provide inspiration for all companies and professionals in the sector." In addition to boosting production at the Pilbara mine, the Roy Hill WHIMS also has significant environmental benefits, decreasing the amount of waste sent to the tailings pile by up to five million tonnes per annum.
Durkin also describes Roy Hill as a leader in the space of decreasing wastage with a WHIMS plant.
"Roy Hill's thought leadership in recovering ultrafine iron ore through its WHIMS plant has also positively influenced the broader sector, with other companies now investigating how to adopt the process in their own operations," he says.
"This provides a clear example of one company's commitment to efficiency and sustainability driving better outcomes for the rest of the industry and community." Roy Hill turned this piece of innovative equipment into something deeply personal to the company, painting the WHIMS plant pink to honour Roy Hill executive chairman Gina Rinehart's long-term commitment to breast cancer research.
Through the Rinehart Medical Foundation, Roy Hill has supported a two-year program worth $500,000 to support cancer patients.
Although about 200 people in the Pilbara are required to travel the 1600-kilometre trip to Perth for treatment, this was the first outreach program specifically set up for Pilbara patients.
CDE Mining, sponsor of the Australian Mining Prospect Awards Minerals Processing of the Year award, values excellence in innovation and sustainability in the mining industry such as the Roy Hill WHIMS plant.
The company states that it is proud of the talent showcased in the Minerals Processing of the Year category in 2020, with each finalist bringing innovative talent to the global minerals processing community.
"The Prospect Awards highlight the value of mining and minerals projects that contribute to the local economy every day without compromising on safety and environmental protection," CDE Mining states.
"We're delighted to sponsor the prestigious awards' Minerals Processing of the Year category in 2020." Roy Hill edged out fellow finalists Weir Minerals, presenting Tronox with a total asset management (TAM) agreement and the OceanaGold Haile gold mine in South Carolina, the United States.
Weir Minerals presented Tronox with the TAM agreement to increase production, which helped it to reduce downtime by 75 per cent and shut intervals by 33 per cent, while saving 10 per cent on maintenance costs.
OceanaGold launched three projects across its minerals processing operations at Haile: the CIL Advanced Control Expert (ACE) and Destruct ACE for continuous reagent monitoring, Carbon Scout management readings and Derrick's G-Vault screens to reduce operational risks.