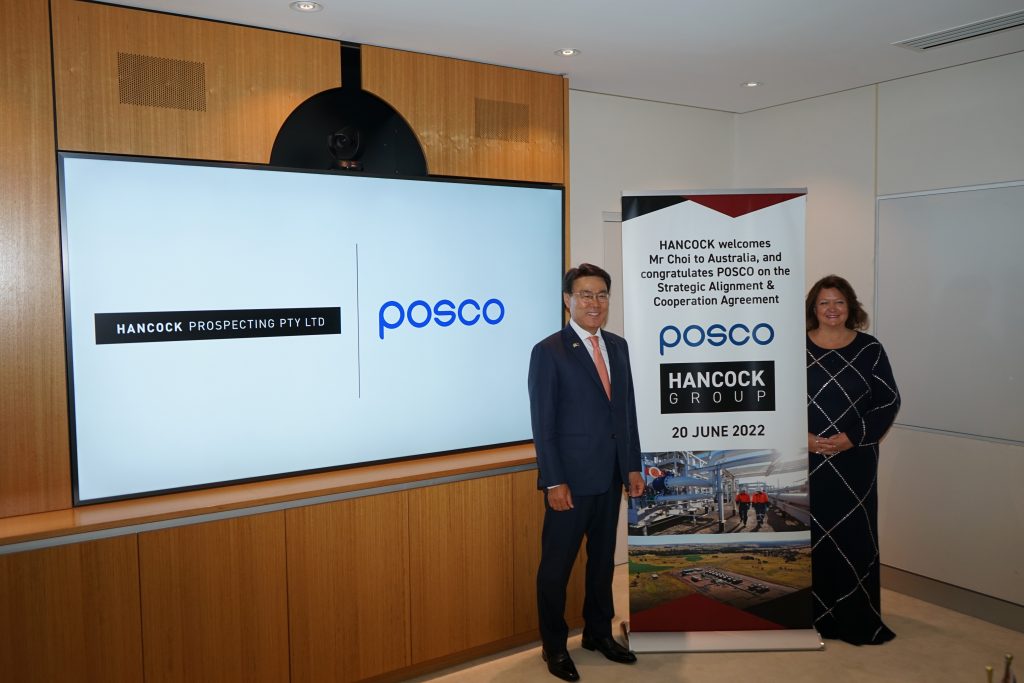 Article by Ik-Hwan Kim courtesy of the Korea Economic Daily.
South Korea's steel giant POSCO Group plans to expand its partnership with Australian mining group Hancock Prospecting Pty Ltd. into other types of minerals such as lithium, nickel and copper beyond iron ore, a key raw material for steel.

POSCO, which also produces electric vehicle battery materials, hopes to secure a larger volume of natural resources from Australia for batteries and clean hydrogen, touted as the future fuel and the group's new growth pillars as well.

Both companies signed a memorandum of understanding (MOU) to develop mines of lithium, nickel, copper and iron ore in Australia, while cooperating in producing hot briquetted iron (HBI) used in electric arc furnaces to make steel, POSCO said on June 21.

The signing ceremony was attended by POSCO Chairman Choi Jung-woo and Hancock Executive Chairman Gina Rinehart, Australia's richest person.

Choi said that expanding the partnership between the manufacturer of EV battery materials and the mining group will create significant synergy.

POSCO, the world's fifth-largest steelmaker, already has been partnering with Hancock for multiple projects since 2010, including their joint purchase of Australia-based Senex Energy Co. for a combined A$815 million last April.

They are also in collaboration to adopt the hydrogen-based steelmaking process to reduce their carbon footprint.

Last week, POSCO International Co., a trading arm, announced a plan to more than treble the natural gas production from Senex's two gas fields in Australia by 2025.

Roy Hill iron ore mine in Western Australia, jointly developed by POSCO and Hancock

During his visit to Australia, Choi on June 20 met with Mark McGowan, Prime Minister of Western Australia, the location of the Roy Hill.

Roy Hill was jointly developed by POSCO and Hancock. The South Korean steelmaker holds a 12.5% stake in the world's largest single mine.

During the meeting with the Western Australian prime minister, Choi addressed his company's efforts to beef up the clean hydrogen business, according to POSCO. Hydrogen is produced from natural gas, oil and other resources.

POSCO plans to spend a combined 53 trillion won ($41 billion) on steel, rechargeable battery materials and hydrogen sectors by 2026.

The POSCO chairman also met with heads of other leading mining companies in Western Australia — Canada-based First Quantum Minerals's co-founder and Chairman Philip Pascall; and Australian lithium company Pilbara Minerals CEO Dale Henderson – to discuss their business cooperation.