Article by Michael Herh courtesy of Business Korea.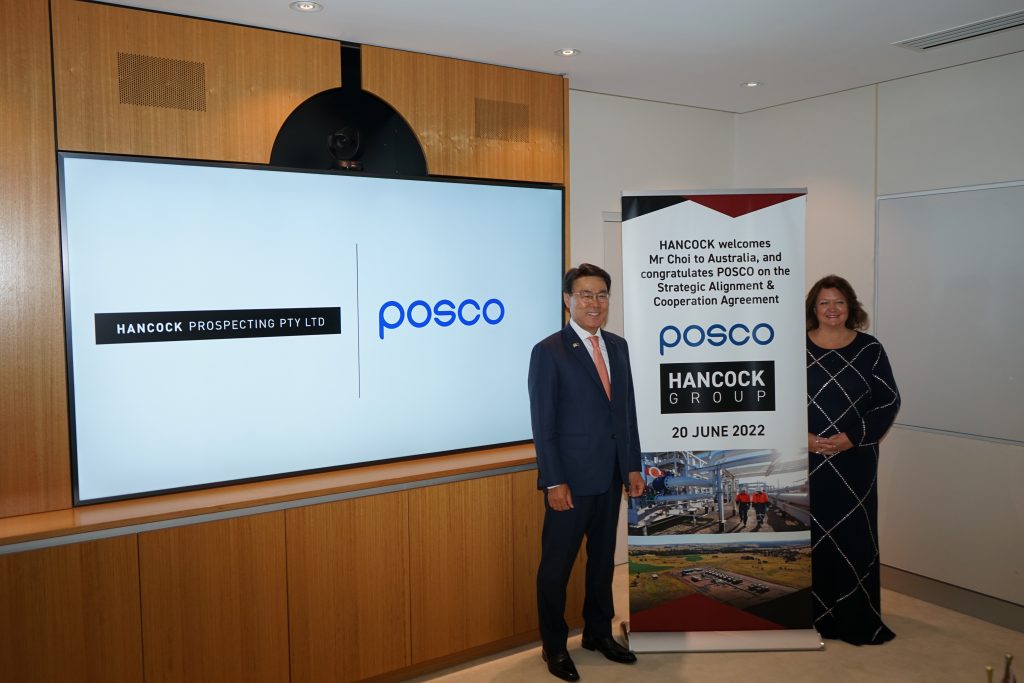 POSCO Group Chairman Choi Jung-woo visited Australia to meet with heads of local resource development companies, the group said on June 21.
Choi visited Western Australia and met with Gina Rinehart, chairwoman of Hancock Prospecting, a privately-owned mineral exploration and extraction company, on June 20 (local time). The two signed a memorandum of understanding (MOU) for strategic cooperation in developing mines of important metals such as lithium, nickel and copper and the promotion of the hot briguetted iron (HBI) business.
HBI is made from direct reduction iron ore pellets and offers predictable and homogenous metallurgical properties, It is used as a perfect feed material for production of demanding steel grades.
POSCO Group and Hancock agreed to seek cooperation not only in steel-related businesses, but in future businesses such as mine development and processing secondary battery raw materials, including lithium and nickel.
Choi also had a meeting with Mark McGowan, premier of Western Australia, on the same day.
On June 21, Choi met with the chairman of First Quantum Minerals, a company specializing in mining development and smelting, and asked for cooperation for the smooth operation of Ravensthorpe, a nickel mining and smelting company. POSCO Group acquired a stake in Ravensthorpe from First Quantum Minerals in 2021.
In addition, Choi met with the chairman of Pilbara Minerals, with which POSCO is actively cooperating in the development and production of lithium concentrates, and discussed the expansion of lithium concentrate supply and cooperation in new projects.