Article by John Stensholt courtesy of the Australian.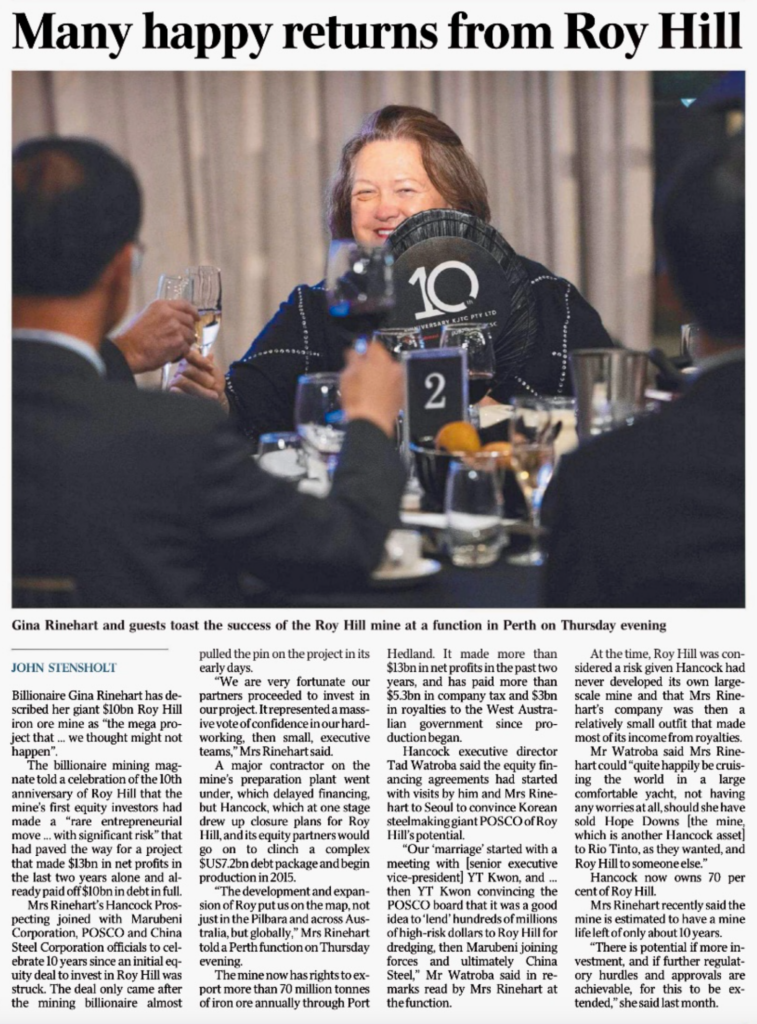 Billionaire Gina Rinehart has described her giant $10bn Roy Hill iron ore mine as "the mega project that … we thought might not happen".
The billionaire mining magnate told a celebration of the 10th anniversary of Roy Hill that the mine's first equity investors had made a "rare entrepreneurial move … with significant risk" that had paved the way for a project that made $13bn in net profits in the last two years alone and already paid off $10bn in debt in full.
Mrs Rinehart's Hancock Prospecting joined with Marubeni Corporation, POSCO and China Steel Corporation officials to celebrate 10 years since an initial equity deal to invest in Roy Hill was struck. The deal only came after the mining billionaire almost pulled the pin on the project in its early days.
"We are very fortunate our partners proceeded to invest in our project. It represented a massive vote of confidence in our hardworking, then small, executive teams," Mrs Rinehart said.
A major contractor on the mine's preparation plant went under, which delayed financing, but Hancock, which at one stage drew up closure plans for Roy Hill, and its equity partners would go on to clinch a complex $US7.2bn debt package and begin production in 2015.
"The development and expansion of Roy put us on the map, not just in the Pilbara and across Australia, but globally," Mrs Rinehart told a Perth function on Thursday evening.
The mine now has rights to export more than 70 million tonnes of iron ore annually through Port Hedland. It made more than $13bn in net profits in the past two years, and has paid more than $5.3bn in company tax and $3bn in royalties to the West Australian government since production began.Hancock executive director Tad Watroba said the equity fin­ancing agreements had started with visits by him and Mrs Rinehart to Seoul to convince Korean steelmaking giant POSCO of Roy Hill's potential.
"Our 'marriage' started with a meeting with [senior executive vice-president] YT Kwon, and … then YT Kwon convincing the POSCO board that it was a good idea to 'lend' hundreds of millions of high-risk dollars to Roy Hill for dredging, then Marubeni joining forces and ultimately China Steel," Mr Watroba said in remarks read by Mrs Rinehart at the function.
At the time, Roy Hill was considered a risk given Hancock had never developed its own large-scale mine and that Mrs Rinehart's company was then a relatively small outfit that made most of its income from royalties.
Mr Watroba said Mrs Rinehart could "quite happily be cruising the world in a large comfortable yacht, not having any worries at all, should she have sold Hope Downs [the mine, which is another Hancock asset] to Rio Tinto, as they wanted, and Roy Hill to someone else."
Hancock now owns 70 per cent of Roy Hill.
Mrs Rinehart recently said the mine is estimated to have a mine life left of only about 10 years.
"There is potential if more investment, and if further regulatory hurdles and approvals are achievable, for this to be extended," she said last month.