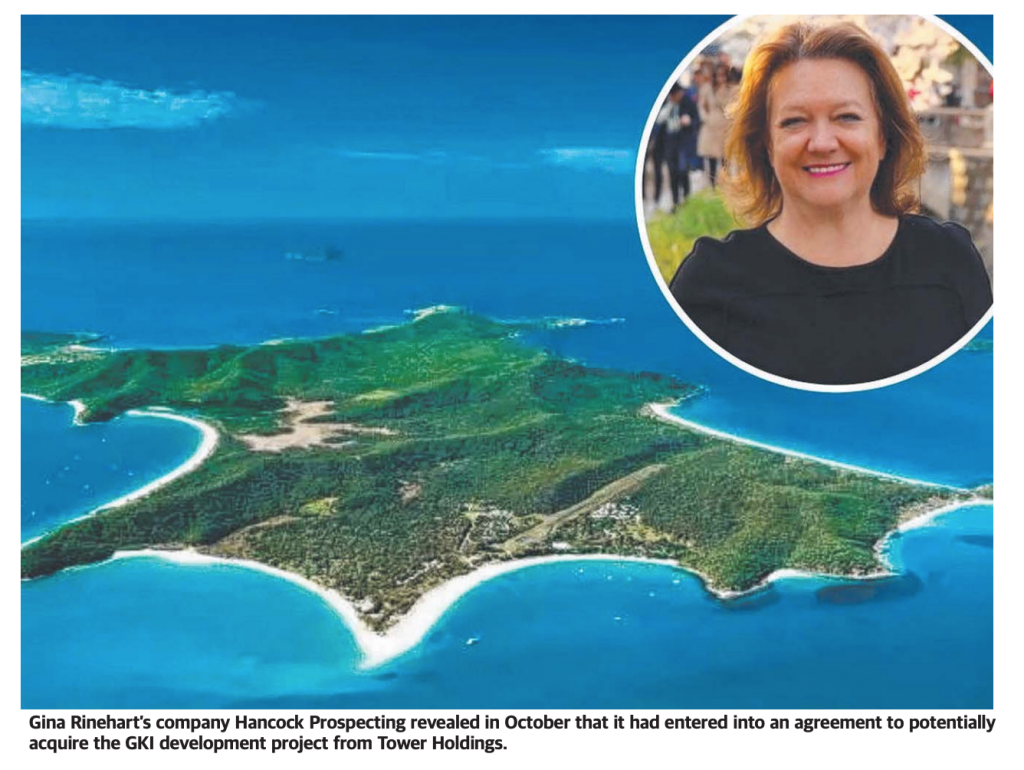 Article by Pam McKay courtesy of the Courier Mail.
CAPRICORN Enterprise CEO Mary Carroll is hoping 2022 will deliver some certainty on the long-awaited redevelopment of the Great Keppel Island resort.
Ms Carroll said Gina Rinehart taking over the project was an exciting prospect.
CAPRICORN Enterprise CEO Mary Carroll is hoping 2022 will deliver some certainty on the long-awaited redevelopment of the Great Keppel Island resort.
The head of the region's peak tourism and development body said the prospect of Australia's richest person Gina Rinehart assuming the project was an exciting one but stressed the deal was "far from done", given the logistics involved.
It was revealed in October that Ms Rinehart's company Hancock Prospecting had entered into an agreement to potentially acquire the GKI development project from Tower Holdings, subject to "myriad state and local government approvals".
It is understood the deal will be for the 970.9ha of development approved land on the island, subject to state and federal government requirements.
While the price has not been confirmed, it is believed to be about $50m.
Hancock Prospecting said in a statement it was "an opportunity to make this one of the best resorts in Australia, with its special location and white sandy beaches".
Ms Carroll agreed, saying it would be a boon for the region.
"As 2021 draws to a close and we continue to deal with the disruptions of Covid, we hope that 2022 will see the purchase of the Great Keppel Island resort approval and transfer of leases from Tower Holdings, which is keen to dispose of its interests," she said.
News of Hancock Prospecting's planned investment followed the state government's decision not to transfer the leases from Tower Holdings to Altum Property Group.
Queensland Resources Minister Scott Stewart declared in June that Altum would not receive the leases required for its proposed resort due to a lack of funds.
Ms Carroll was confident Hancock Prospecting would deliver a "truly world-class tourism development" but said there was a long road ahead.
"The due diligence process will take minimum six months and up to 12 months before Hancock Prospecting will sign a contract to proceed with the purchase of the development approval from Tower Holdings and concurrently the transfer of leases to be approved by the state government," she said.
"The complexity of this particular development is enormous, with no less than 60 pages of lease conditions across four major lease areas, with varied lease terms and conditions.
"Then there is the GKI resort approval itself, which has federal, state and local government processes, with some conditions tied to the approval and other conditions tied to the land." Ms Carroll said the state government, via its Department of State Development, was concurrently undergoing a GKI Master Planning process.
"Whilst the master planning of the island is extremely important, there is an existing and valid 2013 approval for a GKI resort which includes a marina at Putney Beach, hotels and apartments, an extended airstrip and retail," she said.
"That 2013 approval is what is current and up for sale so our best chance at ensuring a resort materialises, with equitable access for all, is for the various interest groups to collaborate and negotiate for the best possible outcome.
"It is also critical that the $26m allocated by the state government for on-island community infrastructure prioritises the accessibility issue onto the island for people and freight, which has been the one unanimous and consistent message from all stakeholders."